Listen to the Episode Below (00:45:21)
Sign up to receive bonus content about our guests and sneak peeks for a guest from the next week's interviews!
Podcast: Play in new window | Download
Subscribe: Apple Podcasts | RSS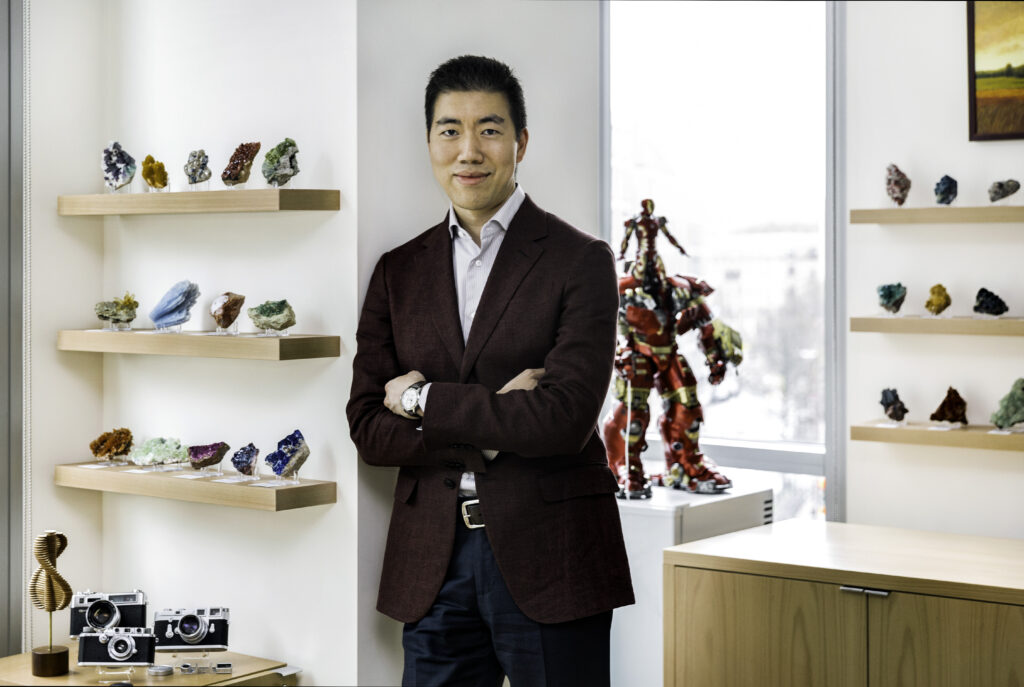 Dr. David R. Liu is the Richard Merkin Professor and Director of the Merkin Institute of Transformative Technologies in Healthcare, vice-chair of the faculty at the Broad Institute of MIT and Harvard, the Thomas Dudley Cabot Professor of the Natural Sciences at Harvard University, and a Howard Hughes Medical Institute (HHMI) investigator. In addition, he is the founder or co-founder of several biotechnology and therapeutics companies, including Beam Therapeutics, Prime Medicine, Editas Medicine, Pairwise Plants, Exo Therapeutics, Chroma Medicine, Resonance Medicine, and Nvelop Therapeutics. He completed his undergraduate education at Harvard College, majoring in chemistry. He was awarded his PhD in organic chemistry from UC Berkeley, and he joined the faculty at Harvard University afterwards. He has been an HHMI investigator since 2005. Over the course of his career, David has received numerous awards and accolades, including being named the 2022 King Faisal Prize Laureate in Medicine and receipt of the Ronald Breslow Award for Biomimetic Chemistry, the American Chemical Society David Perlman Award, ACS Chemical Biology Award, the American Chemical Society Pure Chemistry Award, the Arthur Cope Young Scholar Award, and other prestigious awards for his research and teaching. In 2016 and 2020, he was named one of the Top 20 Translational Researchers in the world by Nature Biotechnology, and he was named one of Nature's 10 researchers in 2022. In addition, he is an elected Member of the U.S. National Academy of Sciences, the U.S. National Academy of Medicine, and the American Association for the Advancement of Science. In this interview, David shares more about his life and science.
People Behind the Science Podcast Show Notes
Life Outside of Science (3:37)
Outside of science, David's hobbies include photography, making wooden vessels using a wood lathe, growing bonsai trees, and exploring electronic art and other homemade art projects. He enjoys blending creativity and intellectual pursuits to create something surprising and beautiful.
The Scientific Side (5:02)
David's research integrates components of biological evolution with chemistry to enable the development of new types of therapeutics and to better study biology. Through chemistry, they can change the structure of a molecule in order to change its function in anticipated ways. They also harness the power of cycles of natural selection to evolve molecules with desired tailor-made properties.
A Dose of Motivation (6:27)
Follow your curiosity. Doing this will help you produce your best work because you will be passionate about solving the mystery you are pursuing, and it won't feel like work.
What Got You Hooked on Science? (8:01)
While his mother was a physicist and his father was an engineer, David's parents gave him the freedom to explore the world and discover what he was most curious about. Early in his childhood, David developed an interest in the natural world, how biology worked, and how living things came to be. He had phenomenal teachers and mentors along the way, and as a high school student, he received an award for a science fair project that allowed him to attend the 1990 Nobel Prize Ceremony in Stockholm, Sweden. That year, the Nobel Laureate in Chemistry was Harvard University Professor E. J. Corey. The whole experience was inspiring for David, and he had an opportunity to ask Dr. Corey questions after hearing his Nobel lecture. David was enrolled at Harvard at the time, and when he returned from Stockholm, David asked Dr. Corey if he could do research in his lab. Being immersed in research and learning from the graduate students and postdocs in the lab was really valuable for David as an undergraduate, and it set him on the path to becoming an independent researcher himself.
The Low Points: Failures and Challenges (21:51)
Failure is common when you are doing ambitious science. In his first few years as a faculty member, David had a lot of uncertainty about whether he was going to succeed and whether any of his research projects would work out. His insecurities continued to grow over the course of those first three years, and it got to a point where he had convinced himself that he was going to fail. David even made a Powerpoint slide deck to present to his department chair detailing why he believed he was going to fail and the actions he could take to minimize embarrassment for the department and the university. The imposter syndrome was almost overwhelming. During that third year, however, things started to turn around. David started getting good results in the lab, he was able to publish some papers he was really excited about, he secured funding for his work, he recruited amazing students, and things started to look promising. Ultimately, David ended up not needing to present those Powerpoint slides, and it has been an honor and a joy for him to work with so many talented trainees and colleagues over the years.
A Shining Success! (26:46)
One major success from David's lab was the development of prime editing, a versatile precision genome editing method that directly writes new genetic information into DNA at a desired location. A talented postdoc named Dr. Andrew Anzalone was instrumental in developing and executing this exciting project. When Andrew described the first iteration of the project to David during his postdoc interview, David was intrigued, but he recognized there was a lot of uncertainty, and a lot of things would have to go right for the project to succeed. That said, the potential impacts of this work were tremendous. Andrew joined the lab, and the project began. The pieces fell into place and each of the problems they faced were resolved faster than David thought possible. After only one year and eight days, they were submitting the paper with their results to the journal Nature for publication. This method of genome editing is now being used as a research tool around the world, and it has served as a basis for the development of new therapeutics that may be delivered to patients within the next year or so to treat genetic diseases.
Book Recommendations (32:29)
Born a Crime by Trevor Noah
Most Treasured Travel (33:20)
David has traveled to hundreds of places over the course of his scientific career, and these travel opportunities dovetail nicely with his interest in photography. In some cases, he has been able to plan visits to places to capture particularly beautiful moments in his photos. For example, David visited Oregon Health & Science University in Portland during the peak of the change in fall foliage. This allowed him to capture incredible photos of the immaculately manicured trees at the Portland Japanese Garden.
Quirky Traditions and Funny Memories (35:34)
Being creative comes naturally to David, both within and outside of his science. During the pandemic, he taught himself how to weld, and he has used these new welding skills in a variety of art projects. There were some minor mishaps along the way (namely catching his clothes on fire multiple times), but one of the remarkable pieces he created is a sculpture of floating islands holding bonsai trees. Each island is supported by a chain with links welded together so that it looks like the chain is draping gracefully down from the island. You can see some photos and videos on David's Twitter feed.
Advice For Us All (41:31)
Find out what stimulates your curiosity more than anything else in the world, and then devote your life to satisfying that curiosity. Also, we can spend a lot of effort trying to be who we think other people want us to be, or who we think we should be but we know deep down we aren't. You can achieve a more peaceful and productive life if you know who you are and stay within yourself. Finally, don't worry about things that you genuinely have no control over. There are many things in life and science that you can't control, and by not worrying about those things, you can better focus your effort and energy on things that you can change.
Guest Bio
David's research integrates chemistry and evolution to illuminate biology and enable next-generation therapeutics. His major research interests include the engineering, evolution, and in vivo delivery of genome editing proteins such as base editors and prime editors to study and treat genetic diseases; the evolution of proteins with novel therapeutic potential using phage-assisted continuous evolution (PACE); and the discovery of bioactive synthetic small molecules and synthetic polymers using DNA-templated organic synthesis and DNA-encoded libraries. Four examples of technologies pioneered in his laboratory are: 1) base editing (the first general method to perform precision gene editing without double-stranded breaks, and a Science 2017 Breakthrough of the Year finalist), 2) prime editing, 3) PACE, and 4) DNA-templated synthesis. These technologies are used by thousands of labs around the world and have enabled the study and potential treatment of many genetic diseases. Four base editing clinical trials are already underway to treat leukemia, hypercholesterolemia, sickle-cell disease, and beta-thalassemia, and the first clinical benefit of a base edited therapeutic in a T-cell leukemia trial has been reported. David has published more than 240 papers and is the inventor on more than 90 issued U.S. patents. Outside of the lab, David pursues a variety of hobbies at the intersection of science and art, including photography around the word,  raising large bonsai trees indoors under LED light canopies he designed, creating art from wood, metal, stone, and/or electronic components, and painting.
Support for this episode of People Behind the Science was provided by Innovative Research, Inc.