Listen to the Episode Below (0:36:58)
Podcast: Play in new window | Download
Subscribe: Apple Podcasts | RSS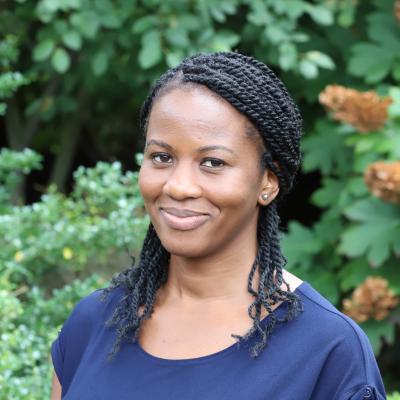 Dr. C. Denise Okafor is an Assistant Professor of Biochemistry and Molecular Biology, and of Chemistry at Pennsylvania State University. She received her B.S. in biomedical chemistry from Oral Roberts University and was awarded her M.S. in chemistry and a Ph.D. in biochemistry from Georgia Institute of Technology. Afterwards, Denise was selected to complete an Institutional Research and Academic Career Development Award from the NIH to conduct postdoctoral research at Emory University and teach at Morehouse and Spelman colleges in Atlanta. Denise has received a variety of awards and honors for her work, including a Burroughs Wellcome Fund Career Award at the Scientific Interface, an NSF CAREER Award for early investigators, and the NIH Director's New Innovator Award. In addition, she has been named a Keystone Symposia Fellow and a Kavli Foundation Fellow. In our interview, Denise talks more about her life and science.
People Behind the Science Podcast Show Notes
Life Outside of Science (2:56)
While science is a large part of Denise's life, she also enjoys reading and writing fiction. Lately, she has been spending much of her free time with her kids, learning dances from Youtube videos and hanging out together.
The Scientific Side (5:31)
Many of the medications we take work by binding to a particular target and either turning off whatever is causing a problem or turning something on that is not working correctly. Denise's research examines how small molecules like drugs find and interact with the targets they are supposed to interact with. She is particularly interested in proteins that can be turned on or off by the small molecules/drugs that they bind with.
A Dose of Motivation (8:36)
Denise is really motivated by the potential for her work to contribute to our understanding of diseases like fibroids. It is exciting to be working in an area that may inform the development of new treatments that could help people in her community with fibroids or other diseases with similar mechanisms.
What Got You Hooked on Science? (13:20)
Denise's parents had high expectations of her since she was the most academically inclined of her siblings. They decided early on that Denise would be a doctor, and she agreed that this career path made sense based on her interests and skills. As an undergraduate student, Denise began taking all of the courses required to prepare for medical school, but her career plans took an unexpected turn when she had an opportunity to work in a research lab. Denise was selected to participate in an NSF-sponsored summer research experience for undergraduates at the University of Memphis after her junior year, and it was a transformative experience. She entered the program not really sure what research was, and she quickly became hooked on the thrill of asking questions and systematically working to get the answer. After talking through her decision with her parents, Denise returned to school in the fall ready to apply to graduate school and begin her career as a researcher.
The Low Points: Failures and Challenges (22:58)
Starting a new faculty position at a new institution in January of 2020 was a major challenge for Denise. She had moved to a new city in December, and shortly afterwards, the COVID-19 pandemic escalated across the country. Trying to establish a new research lab, start collaborations, make connections, and meet people were all much more difficult with everyone working from home and remaining isolated due to the pandemic. At the same time, Denise became responsible for her young daughter's education as schools moved to remote learning, and she was also pregnant with her second child. There was a lot of uncertainty, and Denise had to let go of a lot of expectations about how productive she would be. It was really helpful to be involved in virtual communities with other new faculty members and academic parents to work through the challenges together.
A Shining Success! (25:47)
Receiving funding for your research projects is always exciting, particularly when grant applications end up being received more favorably than expected. When Denise was a postdoc, she applied for a Career Transition Award grant. These grants provide funds to allow you to finish your postdoctoral research and to start your own lab at a new institution. When Denise told her advisor that she wanted to apply, he first asked if she was sure she wanted to spend the time applying. Denise suspected that she may not be a highly competitive candidate, but she decided to apply anyway. She was delighted when her application was selected for funding. This was one of the first external votes of confidence supporting that she had good ideas and she could make it as a scientist. Other exciting successes since then include the first time they got an experiment to work in Denise's new lab and the first paper the lab published.
Book Recommendations (3:59) 
The Ruthless Elimination of Hurry: How to Stay Emotionally Healthy and Spiritually Alive in the Chaos of the Modern World by John Mark Comer
Most Treasured Travel (27:52)
Denise had an opportunity to travel to Hawai'i for a National Diversity in STEM Conference held by the Society for Advancement of Chicanos/Hispanics & Native Americans in Science (SACNAS). It was wonderful to see Pearl Harbor, visit the beautiful beaches, and enjoy delicious food. While she couldn't take her family with her on this particular trip, she looks forward to including them in her scientific travels in the future.
Quirky Traditions and Funny Memories (29:38)
In one of the labs Denise worked in previously, the group was really into food, and they were always looking for an occasion to plan a lab potluck meal. It was fun to celebrate birthdays, baby showers, holidays, and other events together. For Thanksgiving one year, they decided to have an international potluck where everyone brought in a dish of their ancestors. It was fun to celebrate the heritage of lab members and appreciate how diverse the group was.
Advice For Us All (33:38)
Don't let failure prevent you from pursuing your goals, and don't let anyone else tell you that you can't do something. It is important to decide for yourself what you want to accomplish. Failures can provide feedback that you may need to change something or try a different approach, but don't let them hold you back. Be the author of your own story.
Guest Bio
Denise and her lab members investigate the structural mechanisms of signaling and regulation in protein complexes. They use molecular dynamics simulations to determine how conformational dynamics of proteins are altered in different functional states, and they also use a wide range of biochemical and structural techniques. Combined, these allow Denise to understand the precise molecular mechanisms that govern the regulation of protein function. By understanding how proteins are regulated in the body, Denise and her team aim to identify novel strategies to selectively modulate protein function. Nuclear receptors are one of their favorite classes of molecules to study, because of the fascinatingly complex but elegant allosteric regulatory mechanisms that drive their function. These receptors also play critical roles in metabolism, development, reproduction, and other biological processes, which make them highly attractive therapeutic targets.
Support for this episode of People Behind the Science was provided by New England Biolabs, Inc.