Listen to the Episode Below (00:39:52)
Podcast: Play in new window | Download
Subscribe: Apple Podcasts | RSS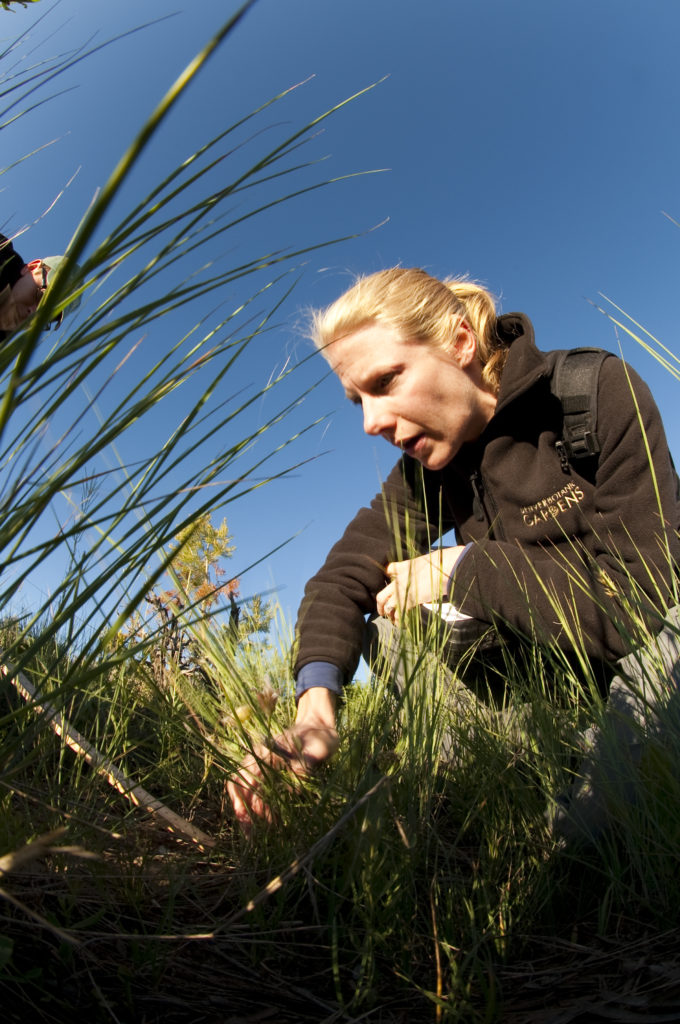 Dr. Jennifer Ramp Neale is Director of Research and Conservation at the Denver Botanic Gardens. She is also an Adjunct Professor of Biology at the University of Northern Colorado and the University of Colorado Denver. She received her B.S. in Biology from Rhodes College and her Ph.D. in Ecology and Evolutionary Biology from the University of Colorado. Afterwards, Jenny conducted postdoctoral research in community genetics at the University of Colorado. Jenny's previous positions include Manager of Research Programs and Associate Director of Research at the Denver Botanic Gardens, as well as Conservation Genetic Consultant with LSA Associates and Solano County Water Agency through the University of Colorado Museum. Jenny is the recipient of the 2012 Partners in Mission Recovery Champion Award as part of the Rare Plant Conservation Initiative from the U.S. Fish and Wildlife Service. She joined us for an interview to talk about her experiences in life and science.
People Behind the Science Podcast Show Notes
Life Outside of Science (2:58)
Jenny is a wife, mother, and outdoors enthusiast outside of work. She enjoys being active outdoors with her family playing soccer, skiing, camping, hiking, and generally having fun outside. Jenny's passion for identifying plants and mushrooms is contagious, and as a result, her family has also become quite knowledgeable about the plants of Colorado.
The Scientific Side (4:10)
The Denver Botanic Gardens is an accredited museum, a public nonprofit organization, and a research institution, so Jenny has a variety of different roles. She oversees the research conducted there, communicates their findings and the importance of science to different audiences, and works closely with land managers/owners to provide information on the local plants to help guide land management decisions. Jenny's research focuses on applied conservation of plants, particularly rare and endangered species in Colorado.
A Dose of Motivation (6:05)
"This is serious. This is science." – from George and Martha: The Experiment.
What Got You Hooked on Science? (12:02)
Growing up in Colorado, Jenny spent a lot of time camping, skiing, and being outdoors as a kid. She loved her high school summer job working at a cut flower farm, and this experience had a big impact on her. It was fun to learn the scientific names of all the plants and how to grow them. Entering college, Jenny knew she wanted to major in biology, and her first semester botany class sealed the deal for plant science. Jenny enjoyed participating in undergraduate research on plants, and she decided to go to graduate school to take the next step in her research career. In graduate school, Jenny became fascinated by conservation genetics in plants, and she continues to work in this area today.
The Low Points: Failures and Challenges (21:46)
One of Jenny's biggest challenges was publishing the second chapter of her dissertation. She submitted the paper to journal after journal, received numerous requests for revisions, and made multiple rounds of revisions, but each time, the paper was ultimately rejected. Jenny ended up with feedback from over 20 editors and reviewers, and the reviews were often contradictory. During this time, Jenny also started her new job at the Denver Botanic Gardens, so it was a particularly stressful time in her career. After 18 long months, the paper was finally accepted for publication, and it was even chosen as the best paper of the year from the journal!
A Shining Success! (24:57)
Last year, one of Jenny's papers was published, and this marked an important first step in a project they are working on related to the rare North Park Phacelia plant. This paper described the microsatellites they developed to track these plant populations, and now they can move on to writing up the research on what they did with these microsatellites. Earlier this year, researchers in her department also published a paper in a great journal where they used herbarium specimens to examine climate change in the alpine region of Colorado.They discovered that over a 61 year timeframe, most plant species they studied are blooming earlier in the year. This was a fascinating finding, and the project represented a lot of hard work from her team members.
Book Recommendations (27:27)
The Paris Architect by Charles Belfoure, The Song of the Dodo by David Quammen
Most Treasured Travel (29:07)
A few years ago, Jenny traveled to Gran Canaria in the Canary Islands off the coast of Africa to attend a conference. For the conference, scientists from botanic gardens across the world came together to discuss topics including public outreach, research, conservation, and the role of botanic gardens today. Connecting with the international botanic garden community was wonderful, and the location was stunning. The island has unique flora, and she was excited to visit the botanic garden there to see their facilities. After the conference, Jenny and a colleague spent a few days catching up and exploring the island.
Quirky Traditions and Funny Memories (32:45)
One quirk of their research group is that they always bring Cheetos as a field work snack. Their cars don't leave the parking lot unless they have Cheetos. When working in the field, all kinds of unexpected things can happen. On one occasion, Jenny was conducting field work with her graduate advisor in Hawaii. They were searching for a particular fern, but the ground was extremely wet and muddy. She stepped in a thigh-deep mud puddle, immediately got stuck, and had to be pulled out by her colleagues.
Advice For Us All (36:36)
You don't have to know from the beginning what career path you will follow. Pursue what you're interested, and you'll figure it out along the way. Having support from your friends, family, and mentors can be a big help. For early career scientists, figure out what skills or tools you are missing, and make sure to fill those gaps. Sometimes you have to look in non-traditional places for training and tools, but they will increase your confidence and make you more effective at your work.
Guest Bio
Jenny serves as the Director of the Research & Conservation at Denver Botanic Gardens. She leads the team of scientists working to investigate and explain biodiversity patterns and processes. Working collaboratively, the team documents and conserves our natural heritage working towards a vision of a biodiverse world. A regional leader in rare plant conservation, Jenny is an author of the Colorado Rare Plant Strategy and works towards its implementation. Jenny's area of expertise is in utilizing genetic tools to address questions related to Colorado's most rare and imperiled plants. She collaborates with the US Fish and Wildlife Service to address genetic questions in several federally listed species through the use of molecular tools. In addition, she conducts long-term demographic monitoring of several species to track population dynamics over time as well as to inform management activities. A Colorado native, and mom of two daughters, Jenny spends most of her free time outside either playing or coaching soccer, skiing, or camping.