Listen to the Episode Below (00:35:02)
Sign up to receive bonus content about our guests and sneak peeks for a guest from the next week's interviews!
Podcast: Play in new window | Download
Subscribe: Apple Podcasts | RSS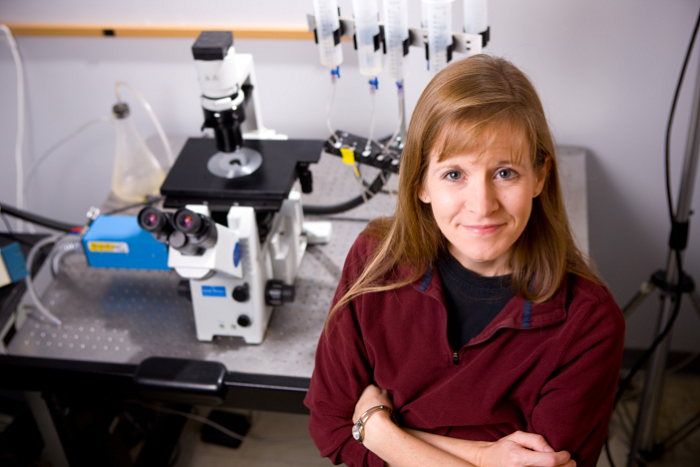 Dr. Kathryn Medler is an Associate Professor in the Department of Biological Sciences at The State University of New York at Buffalo. She was awarded her B.S. in biology from Texas A&M University, her M.S. in physiology from San Diego State University, and her PhD in neuroscience from Louisiana State University. Afterwards, Kathryn conducted postdoctoral research at Louisiana State University and subsequently at Colorado State University before joining the faculty there at the University at Buffalo in 2004. In our interview, Kathryn shares more about her life and research.
People Behind the Science Podcast Show Notes
Life Outside of Science (2:07)
In addition to spending time with her family, one of Kathryn's passions outside of work is travel. While she hasn't been able to travel as much lately, she has managed to escape the city and spend some long weekends hiking and enjoying nature in the Finger Lakes Region of New York.
The Scientific Side (3:12)
Kathryn's lab is dedicated to understanding how the taste cells in our tongues are able to detect the chemicals in our food and send this information to the brain so that we can decide whether to eat something or spit it out. The sense of taste is critical for survival, and there are many complex signaling mechanisms involved.
A Dose of Motivation (5:29)
"Determination is what you need now."
What Got You Hooked on Science? (9:59)
As an undergraduate student, Kathryn was fortunate to have the opportunity to work in a research lab studying reproduction in sea turtles. This work was critical at the time because many species of sea turtles were on the verge of extinction. This experience sparked her interest in research, and she went on to enroll in a master's degree program at San Diego State University. While there, Kathryn worked with alligator embryos at the San Diego Zoo to better understand temperature-sensitive hormonal changes that occur during embryonic development. At that point, her plan was to pursue a career as a scientist studying reproductive biology. However, partway into her PhD program, the professor Kathryn planned to work with moved to a different institution. As a new mom, Kathryn didn't want to uproot her family to continue working in that lab, so she changed the trajectory of her dissertation research to work in a different lab studying the olfactory system in catfish. Through this research, Kathryn's interests in neuroscience and signaling deepened, and she has continued answering interesting questions in sensory systems ever since.
The Low Points: Failures and Challenges (16:22)
During her PhD research, Kathryn struggled to get a particular set of experiments to work. She was trying to clone a receptor peptide into a cloning vector to perform gene expression studies. At the time, this was a very manual process that involved a lot of time and many complex steps. Over a period of about four months Kathryn ran 50 samples, and none of them worked. In every case, the cloning vector was backwards, and she didn't know what to do. When she asked her advisor, he suggested that maybe the next 50 samples would work. Kathryn needed to get these expression studies to work to complete the final chapter of her dissertation, and she knew she wouldn't be able to finish her PhD until they were done. She was frustrated and out of ideas. Fortunately, one of Kathryn's peers shared a suggestion for something she could try, and it worked! Being persistent, talking to people, thinking about different approaches, and researching different techniques can be important to keep moving forward in science.
A Shining Success! (19:49)
Recently, Kathryn and her colleagues published a paper that provides evidence to support that there are taste cells that are broadly responsive to multiple taste qualities (i.e. sweet, salty, sour, bitter, and umami). This was an exciting success because for many years, it has been thought that taste cells are selective and only primarily respond to one taste quality. They had to overcome many challenges to convince the scientific community that their data were correct, including performing additional experiments to address feedback that was raised about their work. Along the way, there were many moments where Kathryn questioned herself and worried that perhaps they were wrong. It was surprising that this sort of signaling pathway for taste cells had been there all along, but it had never been documented before. In the end, the additional studies supported their original findings, and it was a major victory.
Book Recommendations (22:47)
Wide Sargasso Sea by Jean Rhys
Most Treasured Travel (24:27)
In 2014, Kathryn had an opportunity to visit the city of Aix-en-Provence in the South of France to attend the European Calcium Society Meeting. That year, the meeting focused on calcium signaling in sensory systems, and she was invited to give a presentation at the conference. The meeting was excellent, the town was gorgeous, the architecture was remarkable, and the food was superb. In her free time, Kathryn enjoyed exploring the open air markets stocked with clothes, delicious food, and fresh flowers.
Quirky Traditions and Funny Memories (27:06)
It has become a tradition in Kathryn's lab to celebrate each graduate student's graduation with a photo cake. When a graduate student enrolls in their program, they have an official departmental photo taken. Years later when they graduate, Kathryn has this photo printed on their cake to celebrate the occasion and reflect on how much they have learned and grown throughout their time in the lab. The students in the lab are very enthusiastic about this tradition, and it is now a requirement for every graduate student send-off.
Advice For Us All (31:42)
Don't get too attached to your hypotheses. You base your hypotheses on the data you have at the time, so it is usually the simplest answer, but it is not always the most interesting answer. When your data doesn't match or confirm your hypothesis, this is where the interesting science begins. Also, don't feel like it is necessary for you to go to the best and most prestigious schools to have a successful career in science. Focus on where you are, and try to make the most of the opportunities that you have.
Guest Bio
Kathryn's work is focused on understanding how the taste receptor cells in our mouth detect and convert the chemicals in potential food items into output signals that the brain can understand. Using mouse as a model system, the lab has identified new signaling proteins that are important players in the detection of bitter, sweet and umami stimuli. They have also recently discovered a novel population of taste cells that are broadly responsive to multiple taste stimuli. These cells are required for the normal perception of bitter, sweet and umami stimuli and when they are not functional, the mice are severely impaired in their ability to perceive these taste stimuli. Outside of work, Kathryn enjoys putting her own taste buds to work and loves to try new foods that she encounters as she travels. She is the proud mother of three boys and is still officially a soccer mom as her youngest son plays high school soccer.