Listen to the Episode Below (00:38:49)
Podcast: Play in new window | Download
Subscribe: Apple Podcasts | RSS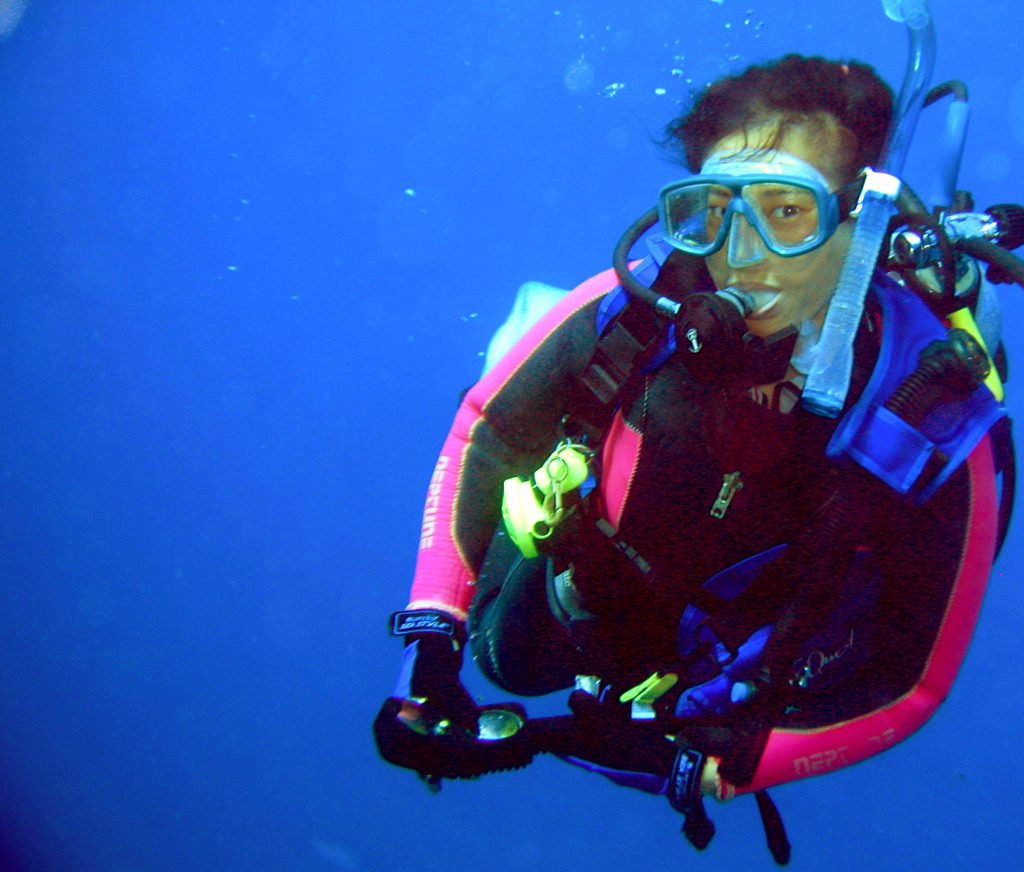 Dr. Lori Hosaka LaPlante is an Associate Professor of Biology at Saint Anselm College in New Hampshire. She received her B.S. in marine biology from California State University, Long Beach, and she went on to receive her Ph.D. in ecology and evolutionary biology from the University of Connecticut. In our interview, Lori shares some of her experiences in life and science.
People Behind the Science Podcast Show Notes
Life Outside of Science (2:14)
When not at work, you can often find Lori doing yoga or playing volleyball. During the winter she plays indoor volleyball three times per week, and in the summer she plays beach volleyball three times per week. Lori also loves spending quality time with her husband, dog, and cat.
The Scientific Side (3:23)
Lori is a professor at a four year liberal arts college, and her responsibilities include teaching three courses each semester, doing research, and serving on various committees. Her research focuses on how and why animals use color signals during communication. In particular, Lori is interested in better understanding color signals used by female fish to communicate readiness to mate, dominance, and health status.
A Dose of Motivation (5:35)
"Let the beauty we love be what we do." – Rumi
What Got You Hooked on Science? (7:36)
When Lori was eight years old, she went to Sea World with her father and was captivated by her experience feeding the dolphins. This was the start of her fascination with the sea and its creatures. Over the years, Lori often visited the beach, got jobs at aquariums, and eventually became scuba certified. Lori wasn't able to go to college immediately after high school, so she took a job at an environmental consulting company and invested in real estate. A few years later, she had saved up enough money to quit her job, sell her house, and go back to school full time to pursue her passion in marine science. Lori started by taking courses at a community college and doing volunteer work at an aquarium. Eventually, she enrolled in the marine biology program at California State University, Long Beach where she earned her bachelor's degree. After finishing college, Lori spent the next three years traveling around the world visiting fourteen countries. This trip included scuba diving in Hawaii, Fiji, and Australia, as well as backpacking in Africa and Europe. When she came back, Lori felt ready to take on the challenge of graduate school. Lori chose a program and a lab where she could continue scuba diving and studying fishes. Her exciting marine research continues today in her lab at St. Anselm College.
The Low Points: Failures and Challenges (16:58)
One of Lori's greatest struggles was recovering from her poor academic performance in her early years. Her grades in high school and her subsequent community college courses weren't great. However, Lori knew she wanted a career in marine biology so she never gave up on her passion. Five years after graduating high school, she finally had the freedom to go back to school full time focusing fully on academics, and her grades improved. It was a struggle to get there, but when Lori started at California State, Long Beach, she knew she had made it. Having confidence in herself and being self reliant were critical in getting through this difficult period in her career. It was also tough for Lori to take a big risk in quitting her job and investing everything she had to go back to school, but she knew this was something she wanted and was capable of doing.
A Shining Success! (21:48)
Lori has been promoting and encouraging undergraduate research at St. Anselm College for the past eleven years, and she considers it a huge success that the research opportunities for undergraduates have recently grown. This past academic year was the first time they had significant funds from the college dedicated to supporting undergraduate research. Lori and two of her colleagues founded a group called "Showcasing Our Art and Research" (SOAR) that started as a one week celebration with senior thesis presentations across departments. Eleven years later, SOAR is a month-long series featuring poster presentations, oral presentations, distinguished speakers, art receptions, and music concerts all given by their undergraduates. It is so rewarding to see their administration recognizing the value of undergraduate research. In the last year, they awarded 22 fellowships for students in science, politics, communication, education, history, and fine arts. These fellowships allowed students to grow as researchers, attend regional conferences, do hands-on research, and complete some really cool projects.
Book Recommendations (25:55)
Atlas Shrugged by Ayn Rand
Most Treasured Travel (27:22)
The kelp forests within the marine sanctuary around the Channel Islands off the coast of California are breathtaking. When Lori first visited this area, it was the first time she had ever been in a kelp forest, and it's now her favorite place to scuba dive. The kelp form amazing forests underwater where they grow about a foot each day and can grow up to 90 feet tall. Each region of the kelp forest (understory, canopy, etc.) has its own communities of organisms like you would see in a forest on land. There are thousands of invertebrates, harbor seals, sea otters, whales, and plenty of fish. Lori was especially struck by seeing the beautiful orange Garibaldi fish which are the official marine fish for the state of California.
Quirky Traditions and Funny Memories (29:16)
In an invertebrate zoology course, Lori worked with her colleagues at a research station in Washington. For one of the projects, they had to collect wild decorator crabs. These crabs are known for walking around on the bottom of the ocean sticking algae and other debris to the little spines on their backs to serve as camouflage. They collected a few decorator crabs and put them in containers where seawater flowed through using pipes supported by styrofoam. After feeding the crabs, the research team went home for the night. When they came back to the lab in the morning, they were surprised to see one of the crabs swirling around at the surface of the water frantically moving its legs around. The crab had broken off pieces of the styrofoam and stuck them to its back causing it to float around comically. Lori and her colleagues quickly liberated the crab from its unintended styrofoam flotation devices, but they couldn't help laughing at the spectacle they witnessed.
Advice For Us All (35:59)
Find your passion, and go with it.
Guest Bio
Lori is fascinated with how and why animals use color to communicate, particularly during courtship. Her interest in this area of study stemmed from early experiences scuba diving on coral reefs. There, she observed striking colors of reef fishes and their constant interactions. Most recently, her research lab has been investigating the function of ephemeral colors displayed by female German Blue Rams. When not working with undergraduate researchers or teaching classes, Lori spends a great deal of time practicing yoga and playing volleyball. Her favorite beach volleyball partner is her husband and they play together every weekend in summer. She and her husband live on 60 acres of wooded land in New Hampshire along with their chocolate lab, two tabby cats, a snake, and several tropical fish.
Support for this episode of People Behind the Science was provided by BioSTL.