Listen to the Episode Below (0:44:06)
Podcast: Play in new window | Download
Subscribe: Apple Podcasts | RSS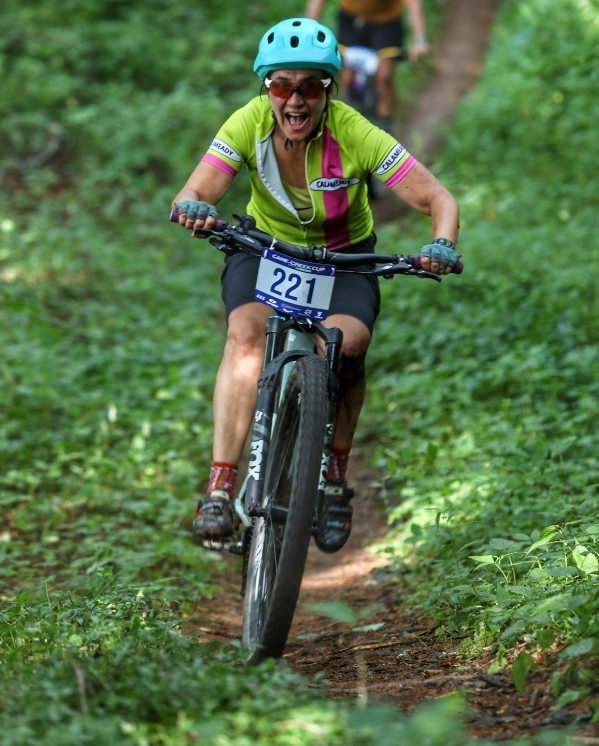 Dr. Nicole Calakos is the Lincoln Financial Group Distinguished Professor of Neurobiology and Chief of the Movement Disorders section in Neurology at Duke University Medical Center. Nicole was awarded her MD and PhD degrees from Stanford University. Afterwards, she completed an internship in Medicine and Residency in Neurology at the University of California, San Francisco School of Medicine. She conducted postdoctoral research at Stanford University before joining the faculty at Duke University in 2005. Nicole has received numerous awards and honors in her career, including the 2023 Korsmeyer award from the American Society of Clinical Investigation and being named an elected Member of the U.S. National Academy of Medicine, a Fellow of the American Association for the Advancement of Science, and a Fellow of the American Society of Clinical Investigators. In our interview, Nicole shares more about her life and science.
People Behind the Science Podcast Show Notes
Life Outside of Science (3:02)
When she's not working, Nicole enjoys being outdoors, playing sports, running, going mountain biking, and participating in mountain bike races. Her favorite indoor activities include creative cooking and spending time with family and friends.
The Scientific Side (4:35)
Research in Nicole's lab examines how the brain learns and adapts to experiences. She studies synaptic plasticity, from the levels of molecules, cells, cell circuits, and behaviors, to understand what goes wrong in disease and how we can harness brain processes to address disease.
A Dose of Motivation (6:22)
"When you move like a jellyfish, rhythm is nothing. You go with the flow. You don't stop." – Jack Johnson
What Got You Hooked on Science? (10:13)
As a first-generation college student, there wasn't a lot of pressure for Nicole to excel in school when she was younger. However, she loved learning and was particularly passionate about English and math. Nicole's high school biology teacher played a pivotal role in her deciding to pursue science because he recommended she should apply to a summer research program at the University of Florida. She was admitted to the program, and it was an incredible experience. At the age of sixteen, Nicole was doing cutting-edge genetic engineering, cutting and splicing DNA in the lab. To her, this was so cool. When she started college, Nicole knew she wanted to do research. She signed up for a work-study position to help pay for college, and this evolved over the years into an independent research project in the lab of Dr. Elizabeth Blackburn (who later went on to win a Nobel Prize). Nicole ultimately decided to pursue an MD/PhD program to combine her passion for research with her interests in service and helping people.
The Low Points: Failures and Challenges (24:38)
Nicole and her lab created a novel reporter that could light up cells when a particular cell stress response pathway was activated. This pathway was known to have roles in learning and memory. Initially, Nicole and her lab members were using this reporter thinking that cells that underwent synaptic plasticity in the brain should activate the reporter. Their experiments failed one after another, and they kept doing different learning behaviors to try get these cells to light up. Then finally, they started looking at neuromodulatory cells, and they were successful. Perseverance was key in this discovery. For Nicole, venting her frustrations in email drafts can help get through difficult times. Also, it is important to remember that one failure doesn't have to be the end of your career. Nicole was not successful when she was trying to get her first R01 grant, and when she got the rejection notice, she thought it was game over for her and her career. But it wasn't. Believe in yourself and surround yourself with people who can be your mentors and champions, and who make you happy.
A Shining Success! (28:28)
Recently, one of Nicole's graduate students received an outstanding score (6th percentile) on her submission for a fellowship for graduate school. This was a particularly exciting success because they did not expect the application to be successful on the first submission. Nicole tries to set deadlines for her mentees that are at least a month before the actual grant deadline to ensure there is adequate time for mentoring and discussion. However, things kept falling further and further behind on this project, and then at the last minute, there were some barriers with the institutional components of the grant submission. Nicole did her best to focus on taking advantage of whatever mentoring opportunities she could throughout the process, and she was thrilled to share in the joy of this trainee getting a grant. Having the endorsement and support of an external review committee can have a tremendous impact on a trainees confidence and belief in themself.
Book Recommendations (31:30)
The Left Hand of Darkness by Ursula Le Guin
Most Treasured Travel (32:51)
Nicole had an opportunity to spend a month in Lisbon, Portugal, working at the Champalimaud Centre for the Unknown. As a physician, it can be difficult for Nicole to travel for long periods of time because she doesn't want to disrupt her patients' care, so this trip was particularly special. The Centre had phenomenal people and science, and Lisbon had remarkable culture that she was excited to immerse herself in. She enjoyed buying a glass of wine after work from a local stand and then walking for miles along the waterfront. In the evening, it was wonderful to enjoy sardines grilled on the open coals with the locals.
Quirky Traditions and Funny Memories (35:19)
One tradition in Nicole's lab is their laboratory cookbook. Everyone who has worked in her lab has contributed a recipe, and some of her collaborators have provided recipes as well. This book serves as a living diary through food of everyone's backgrounds and tastes, based on the recipes they picked. Sometimes they have lab gatherings where people make their recipe in the book as well, and this has been a lot of fun.
Advice For Us All (39:16)
Science and scientific training are a long haul. By the time you get tenure, you will have invested many years in your career, but it will be worth it. Also, don't stress over small decisions. Sometimes you have to make a leap and trust that the net will appear. Try not to get bogged down and discouraged by all of the secondary outcomes in science. Focus on the primary outcome and the research you are passionate about. Have fun discovering something new about how the world works.
Guest Bio
Nicole is fascinated by how experiences and exposures change our brains – how we learn, adapt and maladapt. To satisfy this curiosity, her lab studies plasticity mechanisms in the striatal circuitry of the basal ganglia – making connections between behaviors and the circuits, cells and molecular processes that drive change. Her team has revealed new principles for how we form habits, what leads to compulsive behavior, and why disrupted striatal plasticity leads to uncontrolled movement in diseases like dystonia. Nicole lives by the "work hard, play hard" motto – and feels really lucky that her work is often as fun as play. Outside of work, you might spot her flying over berms or foraging for mushrooms. Outdoor sports and cooking with family and friends round out the joys in her life.
Support for this episode of People Behind the Science was provided by Innovative Research, Inc.