Listen to the Episode Below (0:45:08)
Podcast: Play in new window | Download
Subscribe: Apple Podcasts | RSS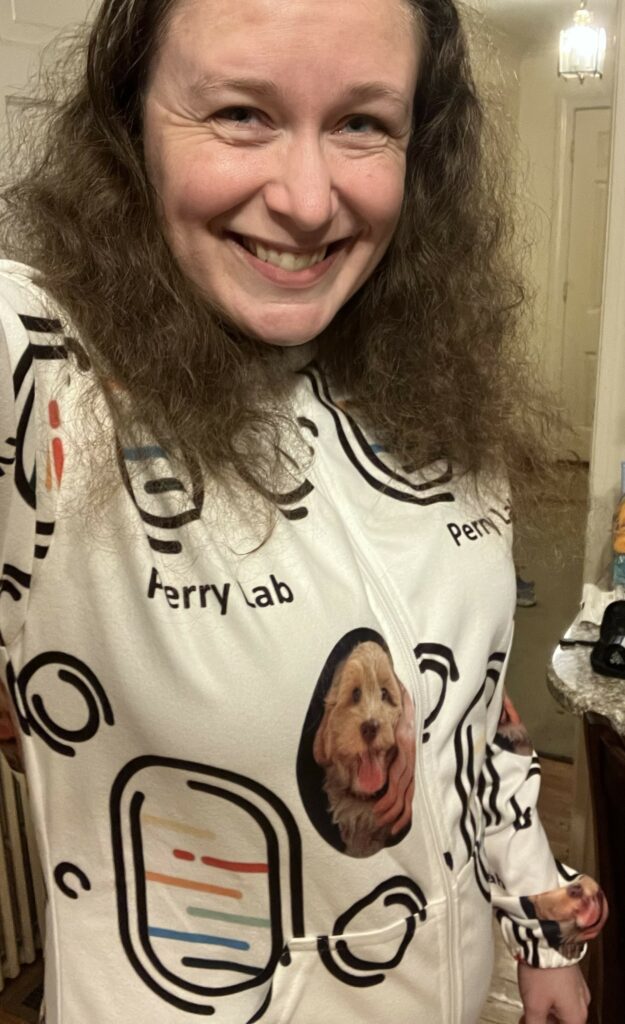 Dr. Rachel Perry is Assistant Professor of Medicine (Endocrinology) and of Cellular and Molecular Physiology at the Yale University School of Medicine. She was awarded her B.S. in Biomedical Engineering and her Ph.D. (with Distinction) in Cellular & Molecular Physiology from Yale University. Afterwards, she remained at Yale for postdoctoral training in internal medicine and endocrinology, and she joined the Yale faculty in 2018. Rachel has received a variety of awards and honors for her research, including the American Physiological Society New Investigator Award, an R37 MERIT Award from the National Institutes of Health, the Translational Science Research Prize from the Yale Cancer Center, the Melanoma Research Alliance Young Investigator Award, the Rising Stars in Cancer Metabolism Award, the Breakthrough of the Year Award from the Yale Cancer Signaling Networks Program, and the Translational Science Research Prize from the Yale Cancer Center. In addition, she was named a Kingsley Fellow of the Yale University School of Medicine. In our interview, she shares more about her life and science.
People Behind the Science Podcast Show Notes
Life Outside of Science (3:02)
In her free time, Rachel enjoys spending hanging out with her family, playing with their Labradoodle puppy, and going on walks in the fantastic fall weather. She is also an avid home chef, and she applies her scientific precision to prepare delicious meals for friends and family.
The Scientific Side (4:13)
Rachel's scientific training focused on how our bodies use nutrients to stay healthy and what goes wrong in diseases like obesity and diabetes. In her current lab, she applies this background to better understand how changes in metabolism (nutrient supply) may affect cancer and how our bodies respond to cancer treatments.
A Dose of Motivation (5:41)
"You miss 100% of the shots you don't take." – Wayne Gretzky
What Got You Hooked on Science? (9:25)
Diagnosed with type 1 diabetes when she was four and a half years old, Rachel began engaging in scientific thinking at an early age. With her parents' help, she was constantly doing experiments on herself since type 1 diabetes requires a lot of management. Rachel would eat a meal, treat with some insulin, and monitor the results. By high school, Rachel knew she wanted to get experience working in a research lab, and she had a great opportunity to work with Dr. David Van Wagoner. After this experience, she knew she wanted to continue doing research in college. As an undergraduate, Rachel worked in the lab of Dr. Gerald Shulman and had a lot of autonomy to troubleshoot and lead the project she was working on with a postdoc. The lab provided an outstanding training environment, and Rachel remained there to complete her PhD and postdoctoral fellowship. While she interviewed more broadly for faculty positions, Rachel ultimately chose to join the faculty and start her own research lab there at Yale University.
The Low Points: Failures and Challenges (21:23)
A recent experiment in the lab investigated the use of a metabolism drug called dichloroacetate to improve the effectiveness of immunotherapy in a type of skin cancer called melanoma. The graduate student working on this project very carefully conducted many experiments, and they were disappointed to see there was no evidence that the drug had any effect on tumor size. However, the student made another very interesting observation. Despite the fact that tumor size wasn't different between the treatment and control groups. The treatment group was much more active and stronger than the control group. This led the lab down the path of investigating cancer-related fatigue. Cancer-related fatigue is a severe and debilitating exhaustion that nearly all cancer patients experience, and it isn't resolved with sleep or rest. While some specific symptoms can be addressed with available treatments, there is no drug that targets the condition as a whole. Based on their preliminary findings, dichloroacetate may protect against all of the facets of cancer-related fatigue. Their results are particularly exciting because the drug has already been shown to be safe and is FDA-approved for use in other conditions. This means that it could move through the clinical trial pipeline fairly quickly. This remarkable success stemmed from an unexpected finding in a study with negative results for the main outcome they were measuring.
A Shining Success! (26:06)
In the past year, two high school students in Rachel's lab had their first-author papers accepted for publication in academic journals. It was so exciting for Rachel to be part of this experience for students at this very early stage in their career. The students really led the work on these projects and were eager to learn and pursue these opportunities. To celebrate successes in the lab, they often get together and share snacks and sparkling cider.
Book Recommendations (30:51)
Radical Candor by Kim Scott
Most Treasured Travel (32:52)
Rachel had a wonderful time visiting Miyazaki, Japan. She was invited to present her research at a scientific conference there in 2019, and it was one of her favorite travel experiences. In her conference session, all of the other presentations were in Japanese, and hers was the only one in English. It was fun to try to determine the key points of the other talks from the figures alone. The city and the surrounding water were beautiful, the food was outstanding, the people were welcoming, and Rachel enjoyed catching up with a colleague there who she worked with when she was a postdoc.
Quirky Traditions and Funny Memories (35:19)
In 2021, Rachel wanted to get the lab group together while following COVID-19 precautions, so she hosted the group for a socially-distanced fire pit party in her backyard. Everyone had to bring at least one rejection notice that they had received (from a paper, a grant, or other application), and one at a time, they read a sentence from the rejection out loud and put it in the fire pit to burn. It was a great time, and a good team building exercise because it demonstrated that they were all experiencing rejections and that they could support each other to get through these challenges. They have been continuing this tradition about once each year, and it is a fun way to normalize rejection in science.
Advice For Us All (40:47)
Not everyone's journey is going to be the same. In her career path, Rachel worked in one lab as an undergraduate, PhD student, and postdoc. This isn't a typical path, but it worked well and made sense for her. There are many examples of other scientists who didn't follow a typical career path, and who are happy and successful. Think about your own personal and professional priorities and how you can shape your path to meet these priorities. Also, remember that work-life balance is important. However, it won't look the same for every person and at every point in a person's life. There isn't one way to balance work and life that works for everyone, but you can have a great career in science while maintaining work-life balance and enjoying the process.
Guest Bio
Rachel's research focuses on the intersection of metabolic health and disease, primarily in the setting of cancer. The Perry lab seeks to use novel methods to generate new insights that may inform recommendations for lifestyle choices as well as the development of new medications targeting metabolism not only to treat cancer, but also to improve the tolerability of cancer treatment. Rachel particularly enjoys mentoring, and has an international lab including high school, undergraduate, and graduate students (both in Connecticut and elsewhere in the U.S. and abroad), and a postdoc. She is actively involved in career development mentorship on a wider scale, and greatly enjoys giving back in this way. Outside of the lab, Rachel enjoys cooking (following a recipe is like following a protocol, after all!), playing around on the keyboard reminiscing about her 15 years of classical piano training as a child, and being trained by the new Labradoodle puppy that her family – including her husband, Curt, and 8 year old daughter, Julia – brought home this summer.
Support for this episode of People Behind the Science was provided by New England Biolabs, Inc.