Listen to the Episode Below (01:01:08)
Sign up to receive bonus content about our guests and sneak peeks for a guest from the next week's interviews!
Podcast: Play in new window | Download
Subscribe: Apple Podcasts | RSS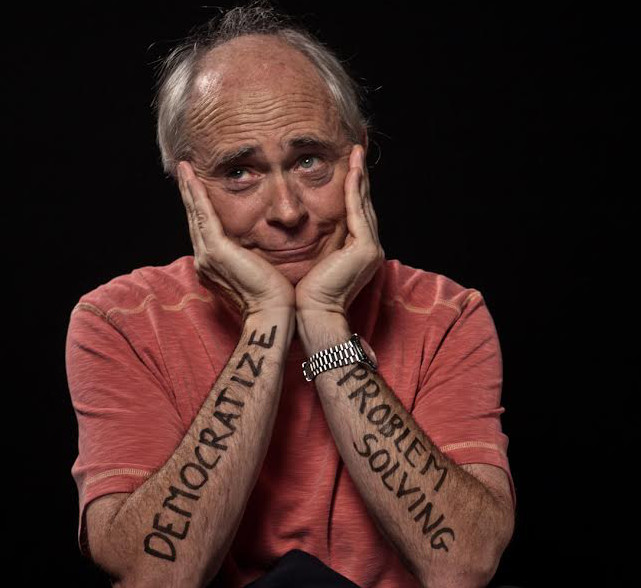 Dr. Richard Jefferson is the Chief Executive Officer of an independent, non-profit institute called Cambia. He is also Professor of Science, Technology & Law at Queensland University of Technology and Director of an open, public innovation resource called The Lens. In addition, Richard is a founder of the biological open-source initiative called Biological Innovation for Open Society. He received his Bachelor's degree in Molecular Genetics from the College of Creative Studies at the University of California, Santa Barbara and went on to complete his PhD in Molecular, Cellular, and Developmental Biology from the University of Colorado, Boulder. Richard completed postdoctoral research at the Plant Breeding Institute in Cambridge and then worked as a Molecular Biologist for the Food and Agriculture Organization of the United Nations before founding Cambia. Richard has received many awards and honors during his career, and just to name a few, he was named an Outstanding Social Entrepreneur by the Schwab Foundation, he was among Scientific American's List of the World's 50 Most Influential Technologists and World Research Leader for Economic Development in 2003, he received the American Society of Plant Biologists (ASPB) Leadership in Science Public Service Award, and Medalist of the Center for Science and Policy Outcomes. Richard is here with us today to tell us all about his journey through life and science.
People Behind the Science Podcast Show Notes
Life Outside of Science
When Richard isn't busy with work and responsibilities on his farm, he enjoys indulging in music, juggling, and creative writing. He plays the steel-string guitar and mandolin mostly now, but has played brass instruments for many years as well. During graduate school, Richard learned to juggle from a very talented group of performing artists who also became his close friends.
The Scientific Side
Richard describes himself as a tool builder who develops the technology or means for others to solve problems. Though much of his career was spent studying molecular biology, Richard does not currently have an active research laboratory. Right now he is focused on problems related to the delivery of science to society.
A Dose of Motivation
"I can resist anything except temptation." by Oscar Wilde.
What Got You Hooked on Science?
Richard's initial plan was not to go into science. In high school, he convinced his principal to let him take music composition courses instead of math courses because he planned to become a professional musician. Science was easy and came naturally to him though, and his interest was piqued by a guest lecture from a NASA neurophysiologist. Richard's impressive powers of persuasion landed him a position at NASA as his first paying job and he was delighted.
The Low Points: Failures and Challenges
He developed the GUS reporter gene system that was used to create the first genetically engineered plants. Many interested parties approached him about strategic partnerships, but he didn't want to reinforce the current status quo where only an elite group of people had the tools to move the field forward. Instead, Richard built kits and sent his gene system to all labs (academic and industry) in the field. This had a huge impact on progress. However, he was frustrated that this approach also facilitated the domination of world agriculture by large companies.
A Shining Success!
As Richard started working with GUS experimentally, he became interested in its role in intestinal microbes where it normally lives. Doing field work in Africa, they discovered it was involved in fertility and mate choice in vertebrates. This had huge implications for the microbial contributions to an organisms fitness. Mulling these findings over, Richard realized that evolution selects more for communities (an organism and all of its associated microbes) rather than individuals. He proposed this novel hologenome theory of evolution at a conference in 1994.
Book Recommendations
The Aubrey Maturin series by Patrick O'Brian, any by Annie Proulx, Neal Stephenson, Tim Winton, Bill Bryson, of Barbara Kingsolver
Most Treasured Travel
Richard has traveled to visit rice paddies and connect with farmers in Southern India. It was amazing to hear their everyday, practical descriptions of complex scientific principles like trophic predator-prey relationships. He was also able to witness the village children depicting these relationships through a colorful dance. This was a humbling experience that had a big impact on his life.
Quirky Traditions and Funny Memories
Working late one night as a postdoc, Richard man an unexpected connection with another researcher in another area at the Plant Breeding Institute. Richard was hard at work in the lab with jazz music playing on the boom box when this fellow scientist and jazz enthusiast came by to investigate the music and introduce himself. This serendipitous meeting resulted in a great partnership where they learned a lot from each other.
Advice For Us All
Kindness and humor are important traits, so try to work on your kindness and humor.
Guest Bio
Richard is a prominent molecular biologist, social entrepreneur and open innovation systems strategist. His work has been cited in the scholarly literature over 15,000 times and his inventions in biotechnology have been widely licensed in agriculture and life sciences enterprises globally. Richard developed the landmark hologenome theory of evolution, developed and distributed critical enabling technologies in plant, animal and microbial genetics, and the conducted the world's first biotech field crop experiment. After a position as the FAO of the United Nation's first molecular biologist, Richard founded Cambia in 1991, as an independent non-profit social enterprise to democratize science-enabled innovation. Fifteen years ago Cambia created Patent Lens, the most popular open full-text patent search site, and 10 years ago pioneered the world's first patent-based commons, the BiOS (Biological Open Source) Initiative. Cambia's main focus now is on Innovation Cartography, on the new open global platform, 'The Lens'. Richard is is an 'Outstanding Social Entrepreneur' of the Schwab Foundation and a regular panelist at the World Economic Forum's Davos annual meetings and Summits, served four years on the World Economic Forum's Global Agenda Council on Intellectual Property and is now on the Global Agenda Council on the Economics of Innovation. His work has featured in media in dozens of countries, and includes profiles in The Economist, New York Times, Newsweek, Red Herring, Nature, Science, Nature Biotechnology and many others.