Listen to the Episode Below (00:41:55)
Podcast: Play in new window | Download
Subscribe: Apple Podcasts | RSS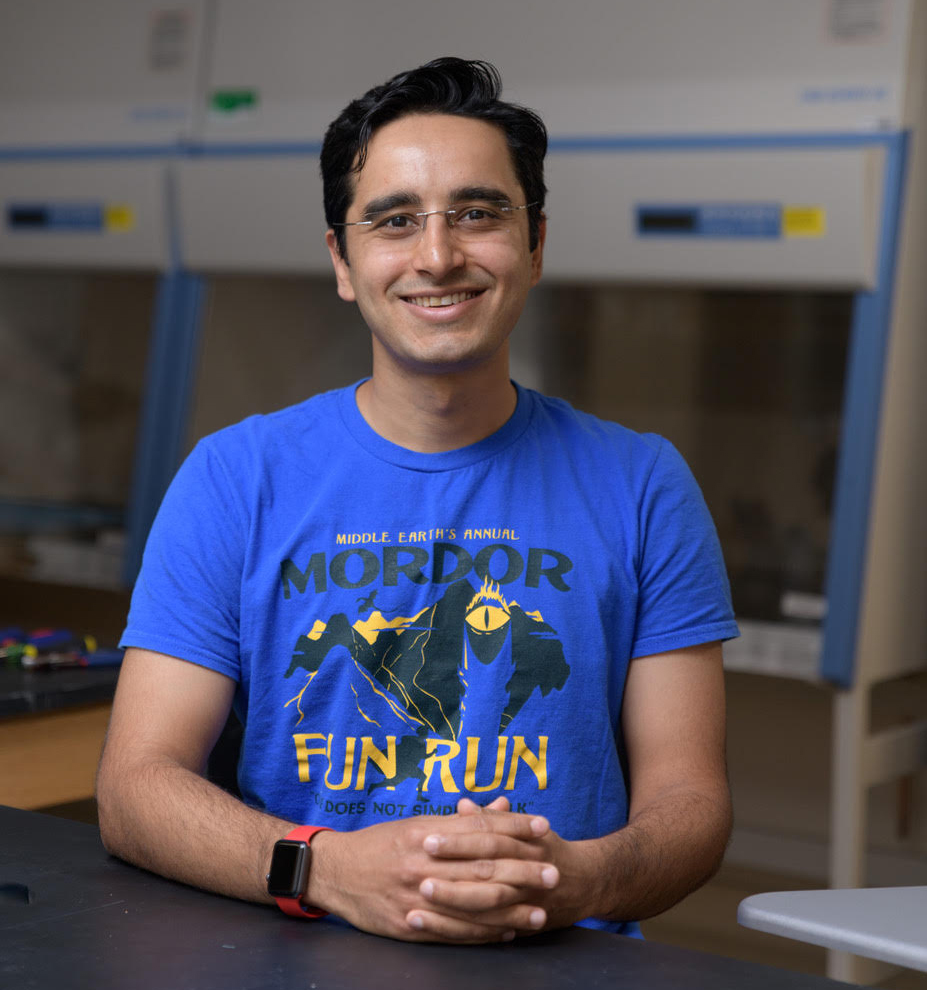 Dr. Saad Bhamla is Assistant Professor in the School of Chemical and Biomolecular Engineering at the Georgia Institute of Technology. He received his bachelor's degree in Chemical Engineering from the Indian Institute of Technology Madras and his PhD in Chemical Engineering from Stanford University. Afterwards, he conducted postdoctoral research at Stanford University and was awarded a Dean's Postdoctoral Fellowship in Bioengineering. In addition, Saad has been awarded a National Science Foundation CAREER Award, a Beazley Design Award, Medgadget's Best Medical Technology Award, an award from The Index Project (formerly INDEX: Design to Improve Life), an Innovation in MedTech Award from the American India Foundation and Stanford University, the Centennial Teaching Award from Stanford University, and The Milton van Dyke Award from the American Physical Society Division of Fluid Dynamics. Saad has also been named an Accel Innovation Scholar and a National Geographic Explorer. In our interview, Saad shares more about his life and research.
People Behind the Science Podcast Show Notes
Life Outside of Science (2:40)
In his free time, Saad loves to go running. Whether he is training for his next marathon or just taking his dogs out for some exercise, running has been a great way for him to think through problems and brainstorm new ideas.
The Scientific Side (4:33)
Research in Saad's lab spans two different focus areas. Some of his projects are dedicated to developing very low-cost scientific tools and medical devices in order to make these items more accessible and affordable worldwide. One example of his work in this area is development of a $1 centrifuge that can be used to help diagnose diseases like anemia and malaria. Another area of research examines questions in biology and organismal physics. In this area, he is investigating how animals are able to move very rapidly, as well as how organisms can form aggregates that can sense their environment and share information. Through his research, he is using his expertise in engineering to solve problems to help society.
A Dose of Motivation (6:48)
"I have no special talent. I am only passionately curious." by Albert Einstein
"I know where I'm going and I know the truth, and I don't have to be what you want me to be. I'm free to be what I want." by Mohammed Ali
What Got You Hooked on Science? (10:38)
As an undergraduate student, Saad applied for a competitive fellowship to work over the summer at a national lab in India. Though he was excited to be selected for the opportunity, Saad initially had some reservations when he discovered that the project would require him to step outside of the computational biophysics that he was familiar with to do experimental work. They were working with a bread company to more systematically characterize dough and determine how dough characteristics impacted the end products. It was fascinating for Saad to work on a real-world problem, and he enjoyed the freedom that his mentor gave him in the lab. In order to have unfettered access to the instruments in the lab, Saad flipped his schedule so he worked through the night and slept during the day. It was exciting to check in with his mentor each evening and update him each morning on the progress he had made. This experience showed Saad how much fun research could be, and he determined that this was the direction he would like to take his career.
The Low Points: Failures and Challenges (19:29)
One of the projects Saad is working on in the lab involves studying worms. These worms form aggregates or "blobs" by interweaving and tangling together. Once aggregated, the worms can move together to change shape, flow like a liquid, climb steps, and solve simple mazes. Saad is interested in understanding how information is shared throughout the aggregate to produce collective behavior. This is an exciting project, but the worm blobs are a challenging system to work with. It has been difficult to attract people who want to work on this system and aren't squeamish about handling the worms. Saad's work on extreme accelerations in slingshot spiders in the Amazon Rainforest involved similar challenges. He hired a postdoc to work on this project, and it wasn't until they arrived in Lima, Peru that he learned that the postdoc was actually afraid of spiders. In both cases, the people in Saad's lab have overcome their aversion to these organisms, and the projects have yielded fascinating findings.
A Shining Success! (23:32)
Getting a paper published is a long process, and Saad and his lab have developed a tradition of celebrating every little step along the way, including the initial submission, receipt of reviews, manuscript acceptance, and publication. Saad was particularly excited recently to celebrate the publication of their work on acceleration in slingshot spiders. This was the first organism he began studying when he started his faculty position, and he was determined to do this project regardless of whether he could secure funding for it. The project was somewhat risky, and there was some pressure on him to wait until he had funding or until he had tenure. However, Saad decided not to put it off for later. His determination paid off, and they made some interesting discoveries about the spiders and the three-dimensional triangular webs that they use to launch themselves at their prey.
Book Recommendations (27:34)
Children of Time by Adrian Tchaikovsky
Most Treasured Travel (29:01)
Though he will never forget the time he spent in the rainforests of Madagascar and the Amazon, one of Saad's most memorable trips was to Egypt. Around the time Saad got married, he had an opportunity to apply to attend a National Academy of Engineers Frontiers conference that was to be held in Egypt. He knew that his wife had grown up watching documentaries on Egypt and that it was her childhood dream to one day visit the country. It was so rewarding for Saad to be able to take her with him when he went to the conference. The conference was amazing, and Saad forged valuable collaborations with other scientists while there. In talking to other researchers from across North Africa, he also got a better understanding of the environments in which people worked and the kinds of challenges they faced doing their science and outreach. While Saad was engaged in conference activities, his wife had a wonderful time exploring the pyramids and seeing the sights she had wanted to see for so long.
Quirky Traditions and Funny Memories (33:23)
Saad has developed a tradition called "Super Happy Fun Time" in his lab. The lab is home to a diverse group of people, and regular lab meetings have been a great opportunity to bring everyone together. They start each meeting off by talking about science and getting updates from lab members, but the second part of the lab meeting is dedicated to doing something that isn't science-related. They take turns coming up with an activity that may involve lab members answering questions to get to know each other better, playing games, doing puzzles, or other activities. Through these activities and sharing stories, they have found commonalities that bring them together. Sometimes the scientific updates are laden with negative findings or problems with experiments, so Super Happy Fun Time is also a great way to end lab meetings on a positive note.
Advice For Us All (38:59)
Try to be the best version of yourself. Do things that you care deeply about, and surround yourself with people whom you respect, admire, and know will support you.
Guest Bio
Through his research Saad investigates fundamental and applied questions in science by developing new experimental tools and techniques at the intersection of soft matter, organismic physics, and global health. One research area in his lab explores the physics of ultra-fast movements across different species. In particular, the physical biology of ultra-fast movements at a single-cell level are poorly understood. What is the fastest motion a single cell can achieve? How do single-cell organisms amplify power and survive repeated high accelerations? Saad and his team are examining these fundamental questions in different unicellular and multicellular organisms to discover the principles of extreme motility at cellular scales. Another research area is focused understanding how the fundamental principles of biological soft matter and complex fluids allow us to perform dynamic processes. These range from the self-assembly of proteins to the stretching of a spider web. Saad's lab studies a variety of different kinds of biological soft matter, including the tears from our eyes and foams created by insects in an effort to connect microscale structures (lipids, proteins) to their consequences for macro scale biological function (contact lens-eye interaction, microbiome health). This research has important applications for human health for diagnostics, monitoring, implants, and biomedical devices. A third research focus in the lab is frugal science and global health. Saad is interested in designing and building tools that are scientifically rigorous, but cost just a few cents. He and his group are working to find innovative solutions for global challenges in science education, agriculture, and healthcare. Outside of the lab, Saad loves to go hiking with his family and two dogs (Ollie and Bella).