Listen to the Episode Below (00:40:58)
Podcast: Play in new window | Download
Subscribe: Apple Podcasts | RSS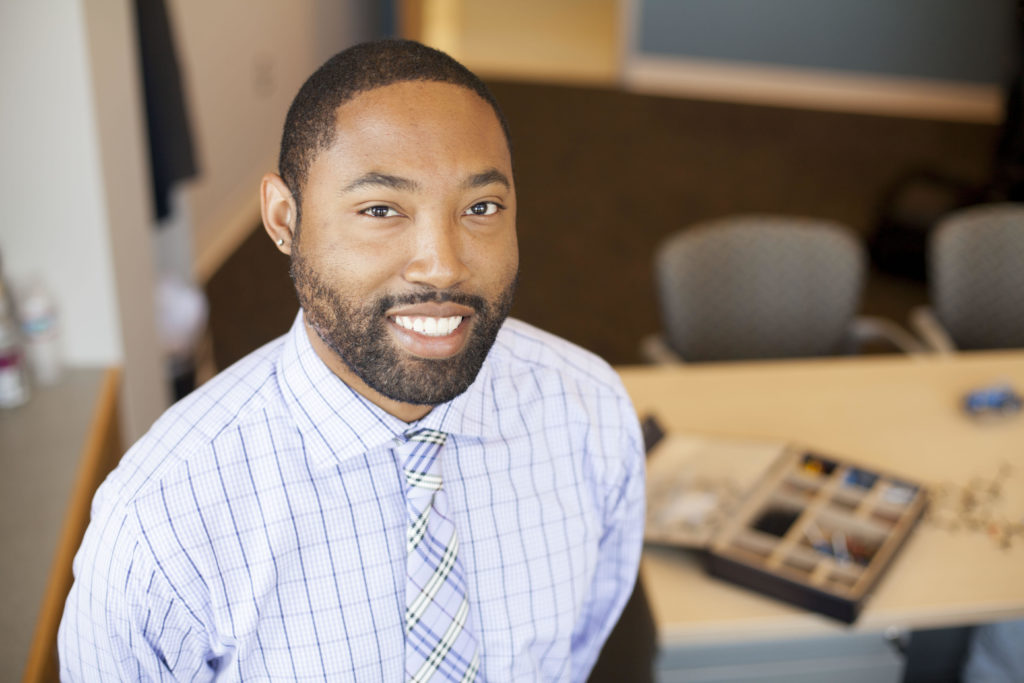 Dr. Steven Townsend is an Assistant Professor of Chemistry at Vanderbilt University. He received his B.S. in Chemistry from Oakland University and his PhD in Organic Chemistry from Vanderbilt University. Prior to accepting his current appointment, Steve conducted postdoctoral research at the Memorial Sloan Kettering Cancer Center and Columbia University. Steve has received numerous awards and honors, including the Oakland University Alfred G. Wilson Founders Medal, the Ruth A. Lawrence Investigator Award for Research in Human Milk Science, Vanderbilt University's Jeffrey Nordhaus Award for Excellence in Undergraduate Education, the Vanderbilt Chancellor's Award for Research, a National Science Foundation CAREER Award, the American Chemical Society Young Investigators Award, and the Camille and Henry Dreyfus Foundation's Teacher-Scholar Award. In addition, he has been named a Vanderbilt University Dean's Faculty Fellow and one of Chemical & Engineering News's "Talented 12". In our interview, Steve will share more about his life and science.
People Behind the Science Podcast Show Notes
Life Outside of Science (2:29)
When he's not doing science, Steve enjoys spending time with his wife and two young daughters, reading psychological thrillers, exercising (running, basketball, and weight lifting), composting, and gardening.
The Scientific Side (6:15)
As an organic chemist, Steve's work involves making drugs and other molecules that are drug-like. He is interested in why people get sick and how he can use chemistry to prevent or treat disease.
A Dose of Motivation (7:11)
"Education is the passport to the future, for tomorrow belongs to those who prepare for it today." – Malcolm X
What Got You Hooked on Science? (8:11)
Steve and his four younger siblings grew up in a single-parent home in Detroit, and most of his family members had blue collar jobs. His first exposure to chemistry was learning about how his great grandfather distilled moonshine. During Steve's school years, there were serious issues with widespread use of cocaine in the city of Detroit. Seeing people with addiction problems on the streets on his way to school made Steve think more about how addiction happened and how it could be cured. Steve continued to become more interested in science in school, and he was particularly fascinated by chemistry. When he started college, Steve had an opportunity to work with an excellent mentor in a biochemistry lab. This was a great experience, and it got him connected with other scientists and jump-started his academic research career.
The Low Points: Failures and Challenges (17:45)
One of the biggest challenges in science is obtaining funding for research. Currently, Steve has four external grant awards, but he had to write about 65 grant applications to get those awards. Maintaining funding for his lab is particularly important because he has eight graduate students and a postdoctoral fellow depending on him for support. When Steve fails to get a grant, he feels like he is letting them down. When he began his independent research career, Steve wrote a grant to propose a project that would use chemistry to find out what the molecules in human milk do to provide health benefits for breastfeeding babies. This was his first original research idea, and he was convinced that it was excellent. The feedback Steve got from reviewers was not positive, and looking back, he can see that the project he proposed was flawed. However, Steve's grants got better over time, and it really helped to get as many colleagues as he could to review his grants before submission so he could address any issues before the formal review process.
A Shining Success! (21:22)
Steve tries to give his graduate students and postdocs as much intellectual freedom as possible, and he encourages them to develop skills in creative problem solving. The small victories that Steve finds particularly meaningful are those moments when you are talking to a student, and you see them figure out how to solve a problem or understand a concept. These small victories happen both in the lab and in the classroom with the graduate and undergraduate students he teaches.
Book Recommendations (3:55)
The Silent Patient by Alex Michaelides
Most Treasured Travel (24:55)
From 2017 through the beginning of this year, Steve presented his work on the sugars in human milk in 58 seminars across the U.S. and around the world. One of the most memorable places he visited was Hong Kong. It was a fantastic experience both scientifically and culturally. Steve was struck by the juxtaposition of Buddhist temples in the hills not far from parks where religious activities were banned. The street food was delicious, and he'll never forget how a group of kids mistook him for a famous soccer player when he visited a local shopping mall.
Quirky Traditions and Funny Memories (29:08)
Steve's postdoc mentor Dr. Sam Danishefsky was a particularly brilliant and quirky person. Among his quirks, Sam was convinced that he only needed about four hours of sleep per night. Unfortunately, his propensity to fall asleep during the day suggested that this wasn't actually the case. One day, Sam called Steve into his office and started telling him about a brilliant idea. While Steve was taking notes on the chalkboard, Sam fell fast asleep. About an hour later, Sam called Steve back in to see how his work was going. Steve said he had an idea that he knew Sam would love and proceeded to pitch Sam his own idea from an hour ago. Sam thought the idea was so great that he bought Steve lunch that day. Fortunately, Steve had recorded the whole incident on his phone so he could show his mentor later that he may in fact need more sleep than he was getting. In Steve's current lab, he and his team have often gone out to Brazilian steakhouses for lunch together, and he always keeps coffee and espresso in stock. Students can get as much coffee or espresso as they want, but in exchange, they have to talk to him about their work or things going on in their life. This has been a great way to get students to open up and feel comfortable talking to him about their research and any problems they may be having. Steve also noticed that students he worked with seemed to get anxious trying to solve problems at a traditional whiteboard. As a result, he made a table for his office where the whole table top is a whiteboard. This has made the experience easier and less stressful for students.
Advice For Us All (37:47)
People are willing to help you if you ask for help. Also, try to pay it forward and help others whenever you can. During these difficult times, make sure to take care of your physical and mental health. Go to the doctor. Many people are depending on you to be the best version of yourself.
Guest Bio
Carbohydrates are the most abundant organic molecules on earth and are critical to a myriad of biological processes. For example, carbohydrates coat the surfaces of cells and carry the information needed for cell-cell recognition, one of the primary methods by which cells communicate with each other. Given their significance, it is important to understand carbohydrate involvement in human health and wellness. Steve's research is focused on understanding the role that carbohydrates play in causing or preventing human beings from becoming ill. His research group thrives on identifying chemistry problems of a difficulty level conducive to new and significant learning experiences. For example, deciphering how the sugars in human milk protect babies from infection. As part of this work, Steve is developing outreach activities with the Martha O'Bryan center – an anti-poverty organization in Nashville – where the focus is on teaching carbohydrate science to underrepresented groups. Outside of work, Steve spends time with his wife and daughters (age 7 and 2), has a heavy sports-related carbon footprint (weightlifting, yoga, running), and enjoys the arts of meat smoking, gardening, composting, and reading psychological thrillers.