Listen to the Episode Below (0:39:59)
Podcast: Play in new window | Download
Subscribe: Apple Podcasts | RSS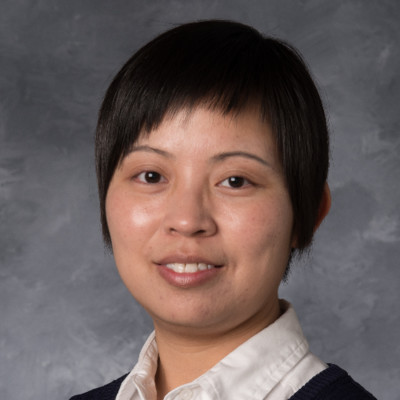 Dr. Susie Dai is an Associate Professor in the Department of Plant Pathology and Microbiology at Texas A&M University. She is also Director of the Biomonitoring Program in the Iowa State Hygienic Laboratory, leading the Iowa Statewide Biomonitoring public health surveillance. Susie received her BS degree in Chemistry from Fudan University, and her PhD in Chemistry from Duke University. Afterwards, she conducted postdoctoral research with the Scripps Research Institute and Oak Ridge National Laboratory. Next Susie began working as a Research Assistant Professor and was promoted to Research Associate Professor at Texas A&M in the Office of the Texas State Chemist. Subsequently, she served as Associate Director of the Iowa State Hygienic Laboratory at the University of Iowa and Director of the Environmental Health Division. She returned to the Texas A&M faculty in 2019. In this interview, Susie shares more about her life and science.
People Behind the Science Podcast Show Notes
Life Outside of Science (2:50)
When she's not at work Susie enjoys reading and hanging out with her family, including her two wonderful daughters.
The Scientific Side (3:52)
Susie works at the interface of chemistry and biology, and her research leverages microorganisms like bacteria and fungus to synthesize chemicals of value or degrade poisonous chemicals. This work has important applications for developing sustainable methods to produce chemicals and breaking down dangerous chemicals that are very stable. In addition, Susie's work also includes biomonitoring where they examine exposure to toxic chemicals from private wells and other environmental sources.
A Dose of Motivation (5:56)
"Chance favors the prepared mind." – Louis Pasteur
What Got You Hooked on Science? (8:28)
In high school, Susie had a chance to learn more advanced physics and chemistry from outstanding visiting teachers, and this sparked her interest in chemistry. While in college, Susie didn't really have her career path planned out, but she knew it was common for people to go to the U.S. to get a PhD if they wanted to pursue a science career, so she decided to do this as a next step. During graduate school, Susie worked with a wonderful mentor who helped her develop her skills not only in chemistry, but also writing, presentation, and thinking systematically about research. Initially, she thought she would get a job in industry because these jobs were prevalent and were highly paid. However, conversations with industry scientists at conferences helped Susie realize that she valued the freedom to choose her own research questions and projects. This ultimately steered her towards academic research.
The Low Points: Failures and Challenges (26:28)
One of the projects Susie has been working on involves using carbon dioxide (now considered an environmental contaminant) as a feeder stock for microorganisms to produce useful chemicals. When they had this idea, Susie knew she wanted to build a hybrid system, but it was a major struggle to get it working in the lab. They just couldn't get the conditions of the system right to keep the bacteria they were working with alive. In their work on degrading forever chemicals, they had to spend a lot of time understanding the sources of uncertainty in their experiments so they could control for as many variables as possible. When creating the material that was going to be the solvent, they had to repeat the process so many times, only to discover that their control was not designed correctly. Failures are common in science, and troubleshooting these failures provides important learning opportunities.
A Shining Success! (29:32)
The most meaningful successes for Susie are those that give her an opportunity to work on projects that can really change people's lives. For example, in one of their studies, they are monitoring water quality in private wells in Texas. They are particularly interested in arsenic, an inorganic and toxic contaminant. In certain areas of Texas, arsenic levels are really high in some private wells. Unfortunately, water contaminated with arsenic is not perceptibly different from uncontaminated water, so people are often not aware that the water they are drinking is not safe. The water has to be tested to identify the contamination, and Susie and her team offered free water testing to community members in areas likely to be impacted. Their results are showing that some areas they evaluated have particularly high arsenic levels, and they have been able to contact the people in these areas to inform them of the issue and provide information on mitigation strategies. It has been amazing to get responses from the people they have contacted and to see the impacts of their work.
Book Recommendations (3:16)
Any book by Vaclav Smil
Most Treasured Travel (33:16)
Susie has been able to travel to a lot of great cities for chemistry conferences, including San Francisco, Orlando, Chicago, and New Orleans. Typically when she is planning for a conference, Susie studies the profiles of the presenters and makes a detailed plan for all the people she wants to meet and speak with. This usually doesn't leave much time for sightseeing. However, Susie recently took up photography as a hobby, and she enjoyed spending time taking phenomenal photos of the Golden Gate Bridge when she was last in San Francisco.
Quirky Traditions and Funny Memories (35:08)
In Susie's lab, they have a fun journal club tradition involving food and lively scientific discussions. Susie orders pizza or other take-out for the lab, and they get to relax and enjoy delicious food. Afterwards, they chat about research papers, trying to be as critical as possible. She likes to encourage her lab members not just to read other people's work, but to think critically as well. This tradition is a great way for the lab to bond and come together like a family.
Advice For Us All (37:53)
As human beings, we make many mistakes. Be yourself, be strong, and try to learn from your failures. Also, be humble, and try to learn as much as you can in your lifetime. Remember that your time is valuable. Where you invest your time is where your future is, so dedicate as much time as you can to the things that will help you reach your goals.
Guest Bio
Susie's research group is evaluating environmental hazard substances, their interactions with the environment and species, and biological systems that can degrade and detoxify the pollutants. Susie and her team have established broad analytical platforms to survey a wide spectrum of natural and manmade toxic chemicals such as mycotoxins, microcystins, agricultural, and industrial chemicals. In one project, the lab is investigating white rot fungus's ability to degrade hazardous chemicals in the environment like organic compounds. To do this, they apply systems approaches to decipher the important enzyme network that works synergistically to degrade the chemicals. Through genomics and gel-free shotgun proteomics analysis, they discovered that oxidation reduction enzymes, such as manganese peroxidase, play important roles in both dye decolorization and lignin depolymerization. At the level of protein function, they use structural dynamics information to guide enzyme engineering to produce more efficient and stable enzymes for bioremediation. In a prior project, they evaluated xylanase, the enzyme that degrades the linear polysaccharide xylan into xylose. By identifying the critical regions in the dynamic interaction between xylan and xylanase, they designed a new xylanase with much improved enzyme activity and stability. In addition, Susie's lab is working on developing fungus and bacteria systems to degrade per- and polyfluoroalkyl substances (PFAS). PFAS, a commonly used manmade stable compound group, has emerged as a major risk for human and environmental health and has been found in groundwater, human tissues, and the environment. By identifying the efficient enzymes and suitable environmental conditions, we aim to identify optimal systems to degrade PFAS.
Support for this episode of People Behind the Science was provided by New England Biolabs, Inc.